South Carolina Tokens
Total visits: 3752 This week: 1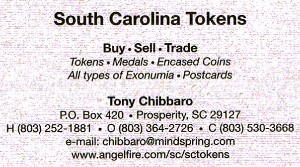 Additional Information
Wanted: South Carolina Tokens ??
All types of South Carolina Trade Tokens: Tokens from Cotton Mills, Lumber Companies, General Stores, Drug Stores, Military Bases, Bakeries, Dairies, and more.... ??
All other types of South Carolina exonumia wanted also, including Transit Tokens, Parking Tokens, Masonic Pennies, Encased Coins, Elongated Coins, Food Stamp Tokens, Wooden Nickels, etc.... ??
All types of items wanted from the 1901-1902 South Carolina Interstate and West Indian Exposition (also known as the Charleston Exposition). ??
Also wanted: Stereoviews showing South Carolina scenes and subjects, especially those picturing the Charleston area during and immediately after the Civil War. ??
I'm also collecting Patrick Mint tokens, both the Bicentennial series and the new series currently in production T
Show Schedule



© 2007 - 2023 CoinZip.com - all rights reserved.