Indian Territory Coin Club Annual Coin Show
Next show: Oct 19th - 20th, 2018
Total visits: 2487 This week: 1
Fri Noon - 5:00 pm
Sat 9:00 am - 6:00 pm
Free parking & admission
Door prizes
Educational programs (Sat 10:00 am & 1::00 pm)
Please verify the show times and dates before attending the "Indian Territory Coin Club Annual Coin Show", as they are subject to change.

Coin show reports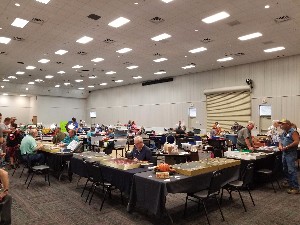 The McAlester Coin Show was a success!!! We had a nice increase in attendance.
Josh Newton Loved it! Had a blast, will be back for sure! Like · Reply · 3 · October 22 at 6:43pmManageDavid Henderson Long time collector, first coin show. I really enjoyed it! Everyone was so nice and ...
Read more »