Spokane Inland Empire Fall Coin & Stamp Show
Next show: no show found.
Total visits: 5450 This week: 15
The Fall 2018 Inland Empire Coin Show
October 6th and 7th, 2018
Our semi-annual Coin & Stamp Show gives you the opportunity to see and buy many great items. Dealers are from Washington, Idaho, Montana, Oregon and some even further away. Typically, there are 40 or more tables of great coins and stamps for sale, as well as collecting accessories. If you're interested in fine or rare coins or stamps, you're sure to find something! We also hold a drawing for a gold coin (worth $50) and 5 U.S. silver eagle coins. The tickets to win are $1. Good luck!
Please verify the show times and dates before attending the "Spokane Inland Empire Fall Coin & Stamp Show", as they are subject to change.

Coin show reports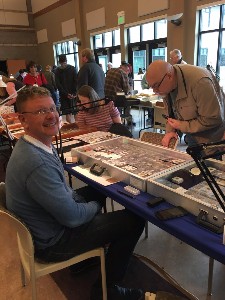 All I can say is wow! What a great experience. Not only did Alan Franke and his wonderful wife make put on a great local show, but all the dealers and collectors felt welcomed, the other dealers present were simply wonderfully nice people!
Collectors were out in full force and were looking for new, fresh items and for Original US Coins, we delivered. Saturday was our best one day show total and many great coins were sold over the weekend. Here is the ...
Read more »