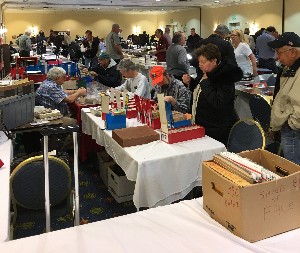 Here's a short review.....I stopped by the Westchester Coin and Stamp Show at the Westchester Marriot in Tarrytown NY on Saturday after getting through a little back-up from an attempted march by a group over the nearby Mario Cuomo Bridge (Tappan Zee Bridge). The group didn't have a permit and there is no pedestrian walkway on the bridge. I eventually arrived and stopped by the front desk, dropped of some numismatic publications on the table for others to sample, and then went in.
its not a huge room, so it was nice to see all of the tables fully manned, good attendance, and a wide variety of material. The usual dealers were there Mark Simon, Ed Doran Coins, Fairchester Numismatics, Dart Coins, and a number of others. There was early US to modern, ancients, Canadian & foreign, one strictly metals dealer, and one large stamp dealer.
I was looking mainly for early quarters, counterstamps, and tokens. There were some quarters on the floor, probably 75% raw and 25% encapsulated. They were mostly lower grade pieces, as I think the highest graded coin I saw was a reduced size PCGS AU53. I didn't find anything for me, but thought this 1821 looked somewhat attractive for the grade. It did have a few marks on the reverse, which I think limited the grade.
The bullion dealer had a couple cases of silver bars in all sorts of sizes big and small, as well as some platinum and other items. I'm not sure how he was doing at the show, but he did mention that he had some customers he would be selling thousands of dollars worth of material to on Sunday upstate.
Unfortunately Jon from Scarsdale Coins was not set up, so I did not get to see any of his recent newps. Someone did mention he was there earlier walking around, but he must have left before I got there. A couple dealers mentioned doing decent business, one a little better on Friday. It's always good to get out and see what's new at the local show, as well as talking to dealers and collectors.