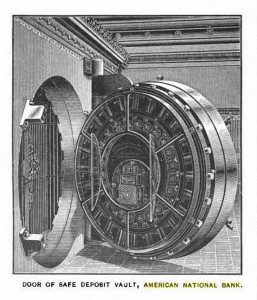 Indianapolis was somewhat of an improbable city. It was arbitrarily selected as a central location in the state. Typically successful cities are located near major waterways but Indy proved to be an anomaly by not only surviving but flourishing. The early settlers tried hard to screw that up. After choosing a very difficult swampy wilderness for the state capital they insisted that canal boats would link it to the rest of civilization. It was a dreadful descsion that helped bring about a financial crisis. To this day the only thing floating on the woefully incomplete canal is for-rent paddle boats and inebriated people. The one saving grace was the national road which routed directly through Indy and made it an important link for land travel east to west.
After the Civil War Indianapolis really became something special. Industry had established a foothold and the natural gas boom of the 1880's pinpointed the city as a hub of commerce and wealth. Much of the architecture and famous old names that people associate with Indianapolis came about in this golden age spanning the gas boom to the 1920s. Just look at the photos and imagine the roar of the crowds and the constant hum and rattle of street cars and horse drawn wagons. What an experience it would have been just to stand on a street corner downtown just watching and listening. The city that was once maligned had become quite the opposite.
This is when the American National Bank Came to be. Located at 22/24 E. Washington Street it was the project of 90 of Indianapolis's top businessmen. It opened with 250k in capital in 1901 and by the second day in operation it had 300 accounts and 366k in desposits. It wasn't long after that the capital reached a million dollars! In order to store the massive wealth the bank used a state of the art 16 ton, Carnegie Steel safe desposit vault with a 7 foot door of nickel plated armored steel. They weren't messing around!
The American National Bank merged with The Fletcher Trust Company becoming the American Fletcher National Bank in 1954. This company would reign supreme as one of the biggest banks in the state of IN until it merged with Banc One in 1987. The Banc One headquarters would become the Chase Tower, well known to Indy residents.
Despite being a really important Indy institution the American National Bank prior to the merger did not issue a ton of currency that managed to survive. Only 50 large notes are known with roughly half being from the 1882 "Brown Back" series. This note is graded as a Fine 12 by PMG. Asking $500 for this scarce and exciting piece of Indianapolis history.