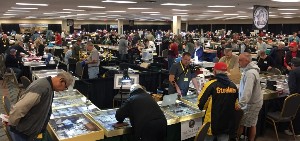 The PAN show is the 3-day event held twice a year by the Pennsylvania Association of Numismatists in Pittsburgh. I was there helping PTVETTER at his table. PAN rounded up some high-profile presentations for this show - Cliff Mishler from Numismatic News, Douglas Mudd from the ANA Museum, and our own Dentuck from Whitman Publishing each presented during the Lecture Series on Friday. In addition our PAN treasurer presented on Rare Coin Basics on both Friday and Saturday.

Saw many more SCDs and CWTs for sale than I ever remember, also a lot of gold and silver bullion, and tables selling 1 oz copper bullion. There were also a handful of tables with small antiques, geodes and jewelry. Of course plenty of high-end, mid-level and lower priced coins as well. The attendance was maybe a little lighter than typical, but the weather didn't help as it was unseasonably warm and sunny.

PAN has competitive exhibits also. A few that I noticed were Political Medals of Defeated Presidential Candidates (going back to Henry Clay) and Collecting World Coins in the 1940's which had dozens of examples purchased from Tatham Stamp and Coin in that era and displayed with the original envelopes as well as some catalogs. They again had the PAN Kids Zone where YNs can fill Whitman folders with donated wheat cents, and are given PAN bucks to use in an auction stocked with donated items.

Was nice to see board members vam44, kaytsok, shortgapbob, CoinZip, Jfoot13 and mar427. Where was Papabear? He never misses a PAN show that I can recall. I see Manorcourtman posted a show report but I have not met him - stop by next time!
Bill Shamhart stopped in as he was in town visiting friends and was kind enough to let me ogle a couple boxes of seated dimes and seated halves, There was a MS67 CAC seated dime that was killer in strike, eye appeal and surfaces. I definitely appreciated the opportunity to view some fantastic pieces and catch up a little since Bill hasn't set up at PAN for a few years. Back in the day he was nice enough to offer me some tips on "customer etiquette at a show" when I was a greenhorn.
Two dealers had zero organization to their cases - nothing grouped in any way. Might have a Lincoln cent next to a Morgan, then a CWT, etc., then 10 coins later another Lincoln cent. Is this a selling tactic of some kind? I didn't get it.
Saw a SEGS slab that had on the label Ex: ANACS XXXXXX (a 6-digit number). First time I've seen a slab that referenced another slab's label number.
PAN sends postcards to their mailing list two weeks before the show. There's a privately-run show that uses the same location that PAN does, and they sent out postcards to their mailing list ONE week before the PAN show. Of course many people are on both mailing lists. That privately-run show's postcard did not reference to the name of their show or their company name. On the back it said "Pennsylvania's Largest Coin Show" and the dates of their next two shows in 2017. That show is certainly a far cry from Pennsylvania's largest coin show, and it seems to me the intent was to fool recipients into thinking their show dates were the PAN dates.
Favorite coin spotted at the show: 1875 IHC with dot reverse, because it has a great story. The Mint was looking to catch a worker who was suspected of pilfering coins. They placed a small dot on the top of the N in ONE on the reverse die, putting that die in service on the coining press the worker was assigned to. When he was asked to empty his pockets before leaving the Mint, they found 33 examples in his possession. Just like with marked bills, there was no possible explanation other than theft. While it cannot be proven that this die was actually the one used for the sting, it was the right year (the story is documented in Mint archives, discovered in 1972 by R.W. Julian), the mark is subtle but definitive, and the hobby has accepted this variety as the one.
Some anecdotes:
Person asks who buys wheat cents. How many did you have? "About 20,000." Not too many dealers would be wanting to lug those home from a show.
Person asks if we have a 1944 steel cent. We explain that they are quite rare and it's unlikely any are at the show, and even if so it would be very, very expensive. Response: "OK, do you take credit cards?"
Customer chatting after making a purchase. "Yeah, I told her I had to go to the coin show today. This started when we were dating and I went to a coin show instead of having dinner with her family. She said then 'I'm always going to be second to coins, aren't I?' and I told her yes. Get it out of the way early, and avoid divorce later."
My favorite: person stops and looks at a MS65 PCGS Morgan. Says, "Nice coin, I need one for my registry set." But he decided to pass without asking a price, because his set only has one particular type of PCGS label, and this one wasn't the right type of label. That's a person who loves the hunt!