ARMSTRONG COIN INVESTMENTS
Total visits: 4071 This week: 3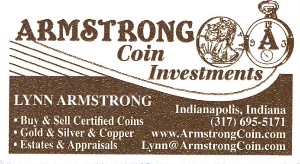 Additional Information

Always buying gold and silver coins and paper currency from the United States, China, Great Britain, and most other foreign countries. Always buying ancient coins and medals.

ANA Life Member 4091 and Central States Life Member 434

Show Schedule



© 2007 - 2023 CoinZip.com - all rights reserved.