DAVID J. WEYGANT RARE COINS
Total visits: 2876 This week: 3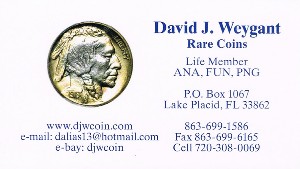 Additional Information

I have been collecting, buying and selling rare coins since 1964. I was formerly a master electrician and contractor in Broward County Florida. I closed that business in 1976 and spent the next 5 years in the Middle East as Electrical supt. on several large construction projects in both Saudi Arabia and Israel. Upon returning home in 1981, My wife and I owned and operated a pool hall and saloon near the campus of the University of Colorado in Boulder for the next 21 years. All the while I was steadily involved in coin collecting ,assembling one of the most advanced sets of walking liberty halves, all graded gem or superb gem by PCGS. After retiring in 1992 and realizing I just couldn't spend the rest of my days fishing and playing golf, I decided to liquidate my collections and start operations as a dealer. At last I am doing what I love to do instead of what I have to do. I buy for resale only the finest available coins within a given grade. My buying is based on eye appeal, strike and surface preservation. Dealing in coins of this caliber precludes obtaining much price advantage. In fact seldom do I find a coin for sale at or near the published Grey Sheet values that hold much interest for me. I buy and sell only coins that are especially attractive for the grade and therefore represent the best value and investment potential. I do try to buy coins that are obtainable for all budgets and offer many lower grade specimens that I consider premium quality for the grade even if the grade be XF or better. I originally intended for this to be a relaxed, lay back combination of hobby and business but such was not to be. The response by the collecting public to the type of coins I've offered has been phenomenal. I am now attending over 16 shows a year with their attendant auctions although I'm planning on dropping a few in the near future. Having turned 84 in August, I'd like to slow down just a little. Between the shows, auctions, ebay and maintaining my web site there's less and less time to smell the roses. If obtaining the finest, most eye appealing coins within a given grading tier is your goal and you're willing to spend a little extra for the extra value then consider the coins I offer. I deal almost exclusively in PCGS and NGC graded coins although I will sometimes buy an ICG or ANACS slab whenever they get it right. Because of the quality of my coins I am able to offer a 100% return policy. If for any reason you are not completely satisfied with any coin purchased from me simply email me within 3 days that you are returning the coin for a full refund of the purchase price. I also offer a 90 day layaway program for those coins you want but can't quite swing all at once. I am a life member of ANA and FUN and also a member of Central States Numismatic Society. I am a member of The Professional Numismatists Guild (PNG) and an authorized dealer for PCGS and NGC. I look forward to filling your needs for high end coins for your advanced collection.

Ebay Auctions

Show Schedule



© 2007 - 2023 CoinZip.com - all rights reserved.