The Broken Cabinet
Total visits: 4551 This week: 15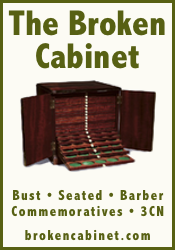 Additional Information

US coins, Bust, Seated, Barber, classic commemoratives and more.
Based in Austin, TX (Nov - Mar) and Berlin, MD (Apr - Oct).

We're currently on hiatus due to the pandemic.
When things get better, we'll be back.



Ebay Auctions

Show Schedule



© 2007 - 2021 CoinZip.com - all rights reserved.