deadshow
Next show: no show found.
Total visits: 30406 This week: 3
Buy & sell coins
More than 100 dealer booths selling stamps, coins, paper money, postcards, and more.
Fri 11:00 p.m - 6:00 pm
Sat 10:00 am - 5:00 pm
Free admission
Please verify the show times and dates before attending the "deadshow", as they are subject to change.

Coin show reports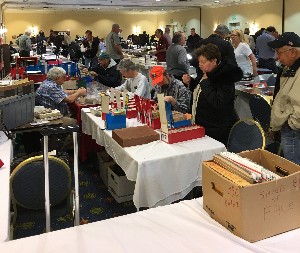 Here's a short review.....I stopped by the Westchester Coin and Stamp Show at the Westchester Marriot in Tarrytown NY on Saturday after getting through a little back-up from an attempted march by a group over the nearby Mario Cuomo Bridge (Tappan Zee Bridge). The group didn't have a permit and there is no pedestrian walkway on the bridge. I eventually arrived and stopped by the front desk, dropped of some numismatic publications on the table for others to ...
Read more »