BRNA Annual Convention
Next show: no show found.
Total visits: 27094 This week: 6
Public hours:
Friday & Saturday 10:00 AM to 6:00 PM
Sunday 10:00 AM to 3:00 PM
Dealers hours:
Thursday - 10AM to 7:00 pm ( & Early Birds ) (start time for dealers is now 10AM on Thursday)
Friday & Saturday - 8:00 AM to 6:00 PM
Sunday 8:00 AM to 3:00 PM
Best Collector Marketplace
Educational Programs
300+ Tables (with multiple dealers)
YN Program
Educational Forums (Saturday)
Free Parking
Free Admission

YN Program Saturday 1:00 pm to 2:00 pm
Due to a policy change approved by the BRNA Board of Directors, Earlybirds will now be allowed in the Bourse Area at 10AM on setup day Thursday .

EARLY BIRD BADGES ARE $50 EACH AND ARE VALID FOR THE COMPLETE CONVENTION
The 61st Anniversary Annual Convention is in August of 2020. We look forward to seeing you there.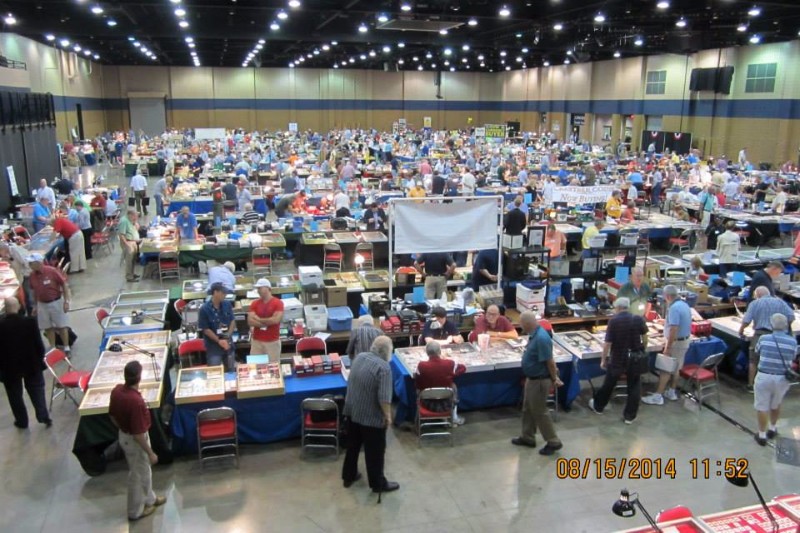 Please verify the show times and dates before attending the "BRNA Annual Convention", as they are subject to change.

Coin show reports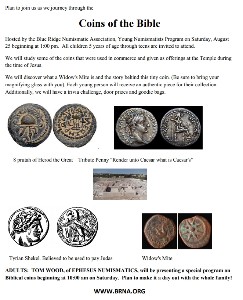 Plan to join us as we journey through the Coins of the Bible Hosted by the Blue Ridge Numismatic Association, Young Numismatists Program on Saturday, August 25 beginning at 1:00 pm. All children 5 years of age through teens are invited to attend. We will study some of the coins that were used in commerce and given as offerings at the Temple during the time of Jesus. We will discover what a Widow's Mite is and the story behind this tiny coin. (Be sure to bring your ...
Read more »
This year our YN Program will be hosting Randy'L Hedow Teton, the female model used to design the Sacagawea dollar which was struck from 2000-2008.
We encourage our young numismatists to plan to come to the show to meet Randy'L and to participate in our cultural outfit contest for those who like to be artistic and creative, our essay contest for those who like to research history and write about it, and our trivia ...
Read more »