Melville Coin, Stamp & Collectibles Show
Next show: Oct 22nd, 2017
Total visits: 14734 This week: 80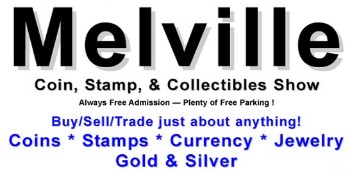 Catapano Engineering Hall
585 Broadhollow Road
Melville, NY 11747
Contact:
Georger Schultheis



8:00 am - 2:00 pm
Free admission & parking
Same location since 1964
Come early for best experience.
Buy / Sell / Trade just about anything!
Coins, Stamps, Baseball Cards, Jewelry, Collectibles.
Please verify the show times and dates before attending the "Melville Coin, Stamp & Collectibles Show", as they are subject to change.
Setting up at this show
© 2007 - 2017 CoinZip.com - all rights reserved.