Salem/Roanoke Valley Coin Show
Next show: Aug 19th - 20th, 2017
Total visits: 5879 This week: 157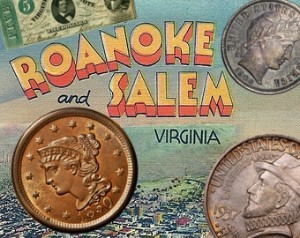 ---
Future show dates:
Nov. 11th - Nov. 12th, 2017
---
Saturday 9:30 a.m. to 5:30 p.m.
Sunday 9:30 a.m. to 3:30 p.m.
40 table of coin dealers from five states will be buying and selling U.S. and world coins, paper money, medals, tokens, gold and silver. Admission and parking are free. There will be good food, professional security and free parking.
Please verify the show times and dates before attending the "Salem/Roanoke Valley Coin Show", as they are subject to change.
Setting up at this show
© 2007 - 2017 CoinZip.com - all rights reserved.