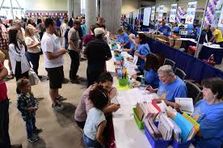 Opportunities & Connections
Dozens of exhibitors will be on hand
with about a gazillion coins for your inspection.
Rare coins, almost rare
coins, coin supplies, coin books, coin
magazines, coin jewelry. If it has anything to do with coins and collectibles, it's going to be here.
You can buy, sell, swap, and jabber
about coins till you're blue in the face. This is the place numismatists from all over the country will be on the prowl, looking for bargains and treasures.
Dealers
Dealers be a part of the hottest new coin show in the Tri State area. Whether you just want to trade dealer to dealer in our secure trading room or you want to set up on the bourse floor to the general public, please contact Jon for all the details!
We are an extremely dealer friendly show and our success is based largely because of our dealers support. Thank You!
Free Admission
The fair is going to be bigger and more exciting than ever. And for those of you who like to keep your money in your pocket, we have another incentive -
Admission is Free Serious or newbie coin collector – there's something here for all. Make sure you mark it on you calendar. This is the one you don't want to miss.
Free admission, great for beginners and pros, a fun family adventure.
Make your plans to attend today.
2019 FAIR SCHEDULE
---
SUMMER SHOW - SUNDAY JUNE 9TH AND WINTER SHOW - SUNDAY DECEMBER 15TH
Dealers SET UP
We welcome our Dealers to set up starting at 7:30 am
7:30 am - 8:30 am
Hudson Room
Fair Opens To The Public
You'll find dozens-and-dozens of exhibitors, including many of the
best known names in the business.
Looking to buy, sell or swap? Look here. Looking for fun,educational and informative exhibits? Look here.
9:00 am - 3:00 pm OPEN TO PUBLIC
Hudson Room & Kisco Room
Special Guest
To Be Announced - Stay Tuned for this special talk
Noon - 12:30 pm
TBA
Special Event and Meeting Room
Coin Club Meetings
Special Event Talks
Thoughout the day 9:00 am - 3:00 pm
Cisqua West
Please verify the show times and dates before attending the "Coin and Collectibles Fair", as they are subject to change.
Setting up at this show