Angel Dee's Coins and Collectibles®
Total visits: 6605 This week: 2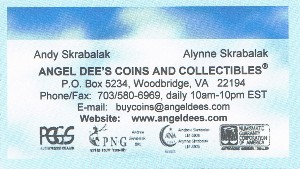 Additional Information

Angel Dee's Coins and Collectibles® provides professional numismatic services to collectors, investors and dealers throughout the United States. We are dedicated to providing the most desirable coins to our customers, as well as building long-term relationships through fair pricing and personal service.

Angel Dee's has been in business since 1994 and is owned and operated by Andrew Skrabalak and Alynne Skrabalak.

Show Schedule



© 2007 - 2023 CoinZip.com - all rights reserved.