Central Florida Coin Club Meeting
Next meeting: no meeting found.
Total visits: 1665 This week: 9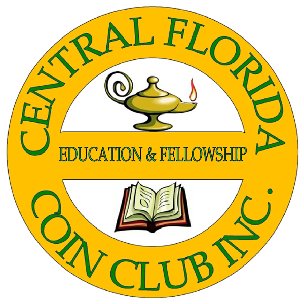 Marks Street Senior Center
99 E. Marks Street
Orlando, FL 32803



Our club has two club meeting each month - the 2nd and 4th Wednesday. We meet in the Oak Room at the Senior Center located on E. Marks Street. Our club meeting begins at 5:45 PM but the doors open at 5:00 PM to allow members and guests tme to socialize. During each meeting we play a couple of games, have show and tell, an auction, a raffle drawings and refreshments. The 2nd meeting of the month is when we have an educational programs in addition to all the other activities. Our YNs have their own meeting prior to the regular club meetng on the 2nd Wednesday of the month (our 1st meeting of the month) starting at 5:15 PM. During the auction, the kids act as runners and earn YN dollars that can be exchanged for the purchase of coins and supplies. Stop by and visit for a while. We look forward to seeing you.

Please verify the show times and dates before attending the "Central Florida Coin Club Meeting", as they are subject to change.
© 2007 - 2023 CoinZip.com - all rights reserved.