Great Show April 15, 2017
Author: Michael Dixon - Saturday April 15, 2017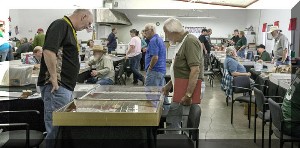 Today, I attended the Milton, WV show to promote the National Battlefield Coin Show™ in Gettysburg. The show is a small venue with 29 tables, but it was a throwback to the coin shows of the 1970s and early 1980s with mostly raw coins. I was amazed at the diversity, quality and quantity of coins. The first coin I saw was an 1800 bust dollar in VF, which a buyer was negotiating with the dealer over. Other mentionable coins I saw were: Colonials, Hawaiian, Feuchtwanger cent, Isabella quarter, Norse medal, and early copper. There was an amazing 1924 S Standing Liberty Quarter which was toned in the brown and fire orange that you occasionally see on them. It was a nice MS63 raw coin, but the dealer was working with somebody who was selling a collection, so I didn't bother him. One customer was negotiating with a dealer on a Braided hair cent. The dealer had it marked XF, but the customer was trying to negotiate the price down to VF. Collector coins seemed to be selling well. I saw several collectors with their bookshelf albums filling holes of Walking Liberty half dollars, early Lincoln cents and Franklin halves. I was thrilled and amazed to see a show reminding me of years gone by.
Cecil Starcher and the Mountain State Numismatic Society (MSNS) did an excellent job putting on the show. The MSNS will have a larger show in Huntington, WV in July, and I would invite everybody within driving distance to go. For me, it will be a 6 hour drive, but I plan to go.

Thanks to Alan (CoinZip) for placing the weekly show schedule on the PCGS' U.S. Coin forum. Had it not been for Alan placing the weekly show schedule, I would not have known about this show.