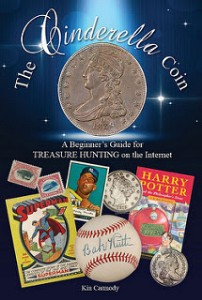 Kin Carmody has published a book on the 1838-O half dollar.
THE CINDERELLA COIN: A Beginner's Guide for Treasure Hunting on the Internet is written by Kin Carmody. It is the true story behind research on the 1838-O half dollar first published in The E-Sylum in 2016 and 2017. The book is soft cover, 6"x 9", 244 pages and is published by Outskirts Press and can be purchased on AMAZON for $17.95. It will make the perfect Christmas gift for any "would be" treasure hunters in your family.
In THE CINDERELLA COIN, the reader becomes a member of a real life treasure hunting team and will follow all the twists, turns, failures and triumphs of the treasure hunt as they actually occurred. In the end, the amazing deception and illegal production of 1838-O PROOF half dollars is exposed that has kept this great Numismatic mystery unsolved for 180 years. THE CINDERELLA COIN is revealed as the only surviving legally struck 1838-O half dollar and the rarest U.S. circulation strike ever made. The reader will also learn all the lessons needed to start his or her own successful treasure hunt.
The actual CINDERELLA COIN will be featured and on display for the very first time at THE WINTER FUN CONVENTION in Orlando, Florida January 10 -14, 2019, and the research behind the discovery will be presented in an educational forum on Thursday January 11 at 4:30 pm.
For more information, or to order, see: The Cinderella Coin: A Beginner's Guide for Treasure Hunting on the Internet (https://www.amazon.com/Cinderella-Coin-Beginners-Treasure-Internet/dp/1478798556/ref=sr_1_3)