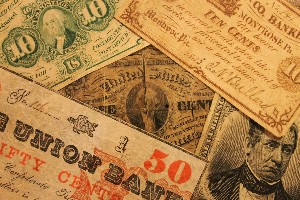 After the long 10 hour drive to set up we arrived in sunny South Carolina to set up Friday morning. The show started at noon on Friday and ran until 6pm.
The show was in a different building this time due to the old building being torn down.
After set up we did normal dealer to dealer stuff. most wanted to see higher grade indian heads, nice morgan's , and better date and grade type stuff. It seemed to me that prices from dealers to other dealers were fairly strong on the nicer stuff which is always a good sign of a market that's slowly getting better.
When the show started a quite a few people came in and there were steady people coming in during the day. from a visual point it didn't look as crowded but i think that had a lot to due with the fact the room was a lot bigger then normal and it was playing tricks with your eyes.
threw out the weekend i had customers asking for everything from national park quarters to high grade key morgans, so in that respect i think all types of coins were being looked for threw out the bourse floor.
there was very little material coming in the door to buy, at least not at my tables anyway. all we were able to purchase was some mid grade key date lincolns that were raw and type coins like 2 cent and half dimes that were very nice but common dates.
the one thing me and my wife noticed was the large amount of people telling us they were just getting into collecting or getting back into it after a long time away from it. this was very nice to hear especially the amount of kids that were there and seem quite interested in collecting. most wanted a series that were somewhat easy to find and wouldn't break there parents pocket book. i talked to a lot of new collectors that either had some coins that were left to them or had already bought some that wanted to get more involved and wanted to start filling holes. we worked on a lot of silver roosey sets and lincolns as well as 2 walking lib sets with some of the new collectors.
i had one young man come in with his mom and dad he was about 8 years old that wanted to work on 20 dollar gold pieces. his parents were shocked by the prices as this was there first show and had no idea at the prices. we had a nice chat about them being actual gold and that they were not going to be cheap especially for an 8 year old. the boy then told me he just liked the color gold so i pointed him in the direction of the sac dollars and presidential dollars. he was ok with them not being real gold, he was just happy they were gold colored as that's all he wanted to collect and with his 20 dollar allowance budget he was happy at the amount of coins he could get with his money. i had a slabbed sac dollar proof that ive had forever and i gave him that and it made his day so that made us very happy. his parents got him a red book so he could do some studying for the next show.
all in all it was a nice show that was attended pretty well over the three days. sunday started out slow but picked up after church let out despite the on and off rain.
most dealers i talked to were happy, and of course there were a few that didn't do so well.
this is a show we look forward to every year. i suggest you stop by and take a look if your ever in the area.
next stop for us is the charlotte nc show this coming weekend and the spartansburg sc show the weekend after that
sorry i didn't take any pictures of anything this time but will remember to d this in the future