Glendale Coin Club Monthly Meeting
Next meeting: Jul 14th, 2017
Total visits: 459 This week: 12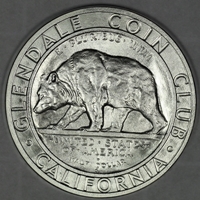 Citibank Building (basement meeting room)
2350 Honolulu Ave
Montrose, CA 91020



---
Future meeting dates:
Aug. 11th, 2017 •
Sep. 8th, 2017 •
Oct. 13th, 2017 •
Nov. 10th, 2017 •
Dec. 8th, 2017 •
Jan. 12th, 2018 •
Feb. 9th, 2018
---
The GCC meets the second Friday of every month at 7:00 p.m. in the basement of the Citibank building located at 2350 Honolulu Ave. in Glendale, California (just off the 210 freeway near Montrose; cross streets of Ocean View and Honolulu).
Parking is free and located just behind and alongside the bank in a well lighted parking area. Please enter through the rear door of the bank to go down to the basement.
Please verify the show times and dates before attending the "Glendale Coin Club Monthly Meeting", as they are subject to change.
© 2007 - 2017 CoinZip.com - all rights reserved.