HARRISBURG COIN SHOW
Next show: Sep 28th - 29th, 2019
Total visits: 6529 This week: 24
The Harrisburg Coin Show, now a Premier 2-DAY Show!
September 28-29, 2019 with Early Birds on Friday the 27th, all details are on the website at www.harrisburgcoinclub.com
This show is like no other, we are a larger than normal show and it is like an event. We have exhibits and displays that make it worth the trip.
We offer several free seminars with guest speakers, authors and coin specialists. We offer a scouting workshop as well. So you can learn while you are here. Make a day of it.
We offer a young numismatist program, games and prizes.
FREE admission, parking and door prize ticket.
Food available and we have a great raffle ticket available.
We look forward to seeing you at our show!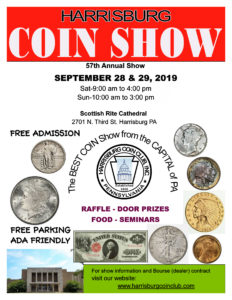 Please verify the show times and dates before attending the "HARRISBURG COIN SHOW", as they are subject to change.
Setting up at this show