Mountain State Numismatic Society - Coin Show & Auction
Next show: Apr 21st, 2018
Total visits: 5114 This week: 54
10:00 am - 3:00 pm
36 tables. Silent auction - approx 90 items - collector and investor coins.
Door prizes - 50/50 drawing - hot food and drink served.
ADMISSION IS FREE: All attendees must register.
Please verify the show times and dates before attending the "Mountain State Numismatic Society - Coin Show & Auction", as they are subject to change.

Coin show reports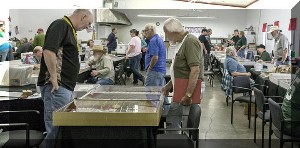 Today, I attended the Milton, WV show to promote the National Battlefield Coin Show™ in Gettysburg. The show is a small venue with 29 tables, but it was a throwback to the coin shows of the 1970s and early 1980s with mostly raw coins. I was amazed at the diversity, quality and quantity of coins. The first coin I saw was an 1800 bust dollar in VF, which a buyer was negotiating with the dealer over. Other mentionable coins I saw were: ...
Read more »