Tennessee State Numismatic Society (TSNS) Show
Next show: Mar 1st - 3rd, 2019
Total visits: 10581 This week: 46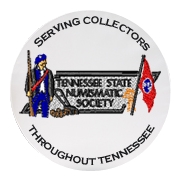 ---
Future show dates:
Nov. 1st - Nov. 3rd, 2019 •
Mar. 6th - Mar. 8th, 2020 •
Nov. 6th - Nov. 8th, 2020 •
Mar. 5th - Mar. 7th, 2021 •
Nov. 5th - Nov. 7th, 2021
---
Fri 10:00 am - 6:00 pm
Sat 10:00 am - 6:00 pm
Sun 10:00 am - 3:00 pm
Over 200 dealers.
The Camp Jordan Arena is just off Tennessee Exit 1 on I-75 in East Ridge, TN just south of the Chattanooga airport. The location provides an easy two hour drive from Nashville, TN, Knoxville, TN, Birmingham, AL and Atlanta, GA.
A detailed map will assist in locating Camp Jordan Arena and nearby motels. Motels are located near the US-41 & I-75 interchange and near the airport.
Please verify the show times and dates before attending the "Tennessee State Numismatic Society (TSNS) Show", as they are subject to change.
Setting up at this show